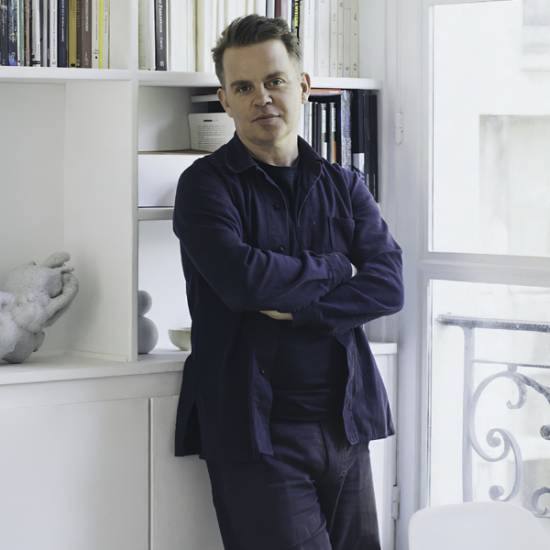 Born in 1971 in Paris, Grégory Chatonsky lives and works in Paris and Montreal. After studying visual arts and philosophy at the Sorbonne and multimedia at ENSBA, he went on to develop work around the Internet, which is considered less as instrumental technology than as a medium in its own right. He is the author of the CD-Rom, Mémoires de la Déportation, which won the Mobius Prize in 1998, and he created the websites of the Villa Medici and the Centre Pompidou in 2000, as well as that of the Mac Val, the contemporary art museum of Val-de-Marne in 2005. He has worked in partnership with filmmakers such as Jean-Paul Civeyrac and Arnaud des Pallières, while continuing to work on theory-based projects.
Since the mid-90s, Grégory Chatonsky has worked on the Web, especially its affective aspects, leading him to question identity and explore the new narratives emerging from the Internet.
In 2001, he began a long series on dislocation, aesthetics, ruins, and extinction as a man-made and natural phenomenon. Over the years he has turned to the ability of machines to almost autonomously yield results that resemble human creation. These issues have converged with the advent of artificial imagination, which uses data accumulated on the Web as learning material to produce a likeness. In the context of the probable extinction of the human species, the network can be seen as a desperate attempt to create an anticipatory monument that would continue after our disappearance.
He has participated in numerous solo and group exhibitions in France, Canada and abroad, including Terre Seconde (2019) at the Palais de Tokyo, Je ressemblerai à ce que vous avez été (2019) at the Tanneries, France Electronique (2018) in Toulouse, Terre/mer /signal (2018) at Rua Red in Dublin, Imprimer le monde (2017) at the Centre Pompidou, Capture: Submersion (2016) at Arts Santa Mònica, Barcelona, La condition post-photographique in Montreal (2016), Walkers: Hollywood Afterlives in Art (2015) at the Museum of the Moving Image in New York, Telofossils (2013) at the Museum of Contemporary Art in Taipei, and Printing Error (2012) at Jeu de Paume in Paris.
He was artist in residence at the Cité Internationale des Arts (2019-2020), Icade (2018-2019), Abu Dhabi (2017), in the Amazon in Taluen (2017), Colab in Auckland (2016), Hangar in Barcelona (2016), IMAL (2015), Villa Kujoyama (2014), CdA Enghein-les-Bains (2013), MOCA Taipei (2012), 3331 Arts Chiyoda (2012), Xiyitang, Shanghai, (2011), Les Inclassables in Montreal (2003), and Abbaye royale de Fontevraud (2002). He was awarded the Audi Talents Prize in 2018.
In 1994, he founded Incident.net, one of the first Netart collectives in France. He was visiting professor at Le Fresnoy (2004-2005), at UQAM (2007-2014), and was the recipient of an international research chair at the University of Paris VIII (2015). Since 2017, he has been an artist-researcher at ENS Ulm and heads a research seminar on artificial imagination and post-digital aesthetics. In 2019-2020, he became Artistic Manager of a training course in research-creation at Artec. He is also Artistic Director of the Imago Research Centre (ENS, ENSBA and UNIGE).