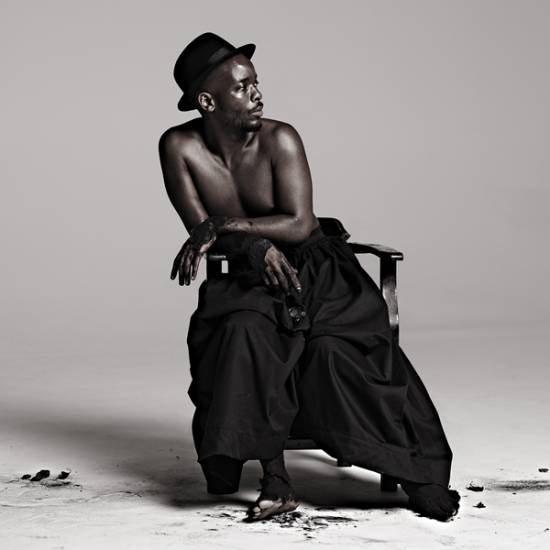 Mohau Modisakeng uses his body to explore the influence of South Africa's violent history on how we understand our cultural, political and social roles as human beings. Represented through film, large-scale photographic prints, installations and performance, Modisakeng's work responds to the history of the black body within the (South) African context, which is inseparably intertwined with the violence of the Apartheid era and the early 1990s.
His images are not direct representations of violence, but powerful yet poetic invocations where the body is transformed into a poignant marker of collective memory.
Mohau Modisakeng was born in Soweto in 1986 and lives and works between Johannesburg and Cape Town. He completed his undergraduate degree at the Michaelis School of Fine Art, Cape Town in 2009 and worked towards his Masters degree at the same institution. Modisakeng recently performed at the Sharjah Biennale 14: Leaving the Echo Chamber in 2019. His work has also been exhibited at the Zeitz Museum of Contemporary Art Africa, Cape Town (2017); PERFORMA17, New York (2017); Tyburn Gallery, London (2016); IZIKO South African National Gallery, Cape Town (2014); Saatchi Gallery, London (2012); and the Dak'Art Biennale, Dakar (2012). Public Collections include the Museum of Contemporary Photography, Chicago and Museum + Montreal Museum of Fine Arts (MMFA), Pizzuti Collection Ohio, the Johannesburg Art Gallery, IZIKO South African National Gallery, Saatchi Gallery, the From Cobra to Contemporary Collection, EKARD Collection, Dommering collection, and Zeitz MOCAA.
Modisakeng has been awarded the Standard Bank Young Artist Award for Visual Art in 2016. As part of a two-person exhibition, Modisakeng also represented South Africa at the 57th Venice Biennale in 2017.