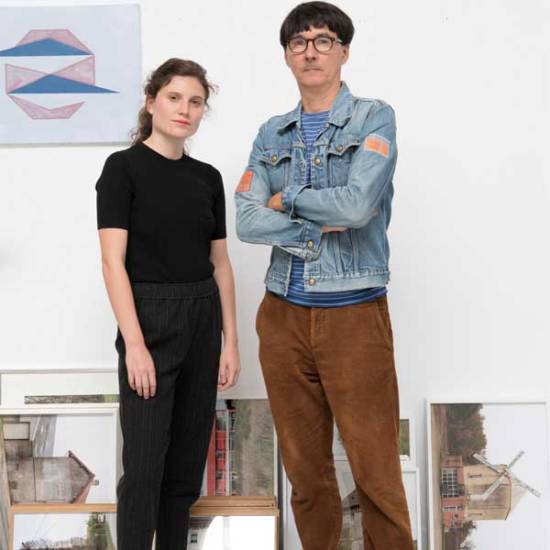 Nelly Monnier
Nelly Monnier was born in 1988, and lives and works in Ain and Essonne.
After a childhood spent in the countryside, followed by film studies in Bourg-en-Bresse, she graduated from the Higher National School of Fine Arts in Lyon in 2012. She subsequently presented her work, in which painting, drawing and storytelling address the relationships between architecture, the decorative arts and landscape, at the Creux de l'Enfer (Thiers), the Fabre museum in Montpellier, after being awarded the Félix Sabatier prize, the Institute of Contemporary Art in Lyon / Villeurbanne in 2013, in Singapore in 2015, at the Salon de la Jeune Creation in 2017, and then at the 22.48m2 gallery (Paris), at the Metaxu (Toulon) and at the Cantine (Belfort) recently. Her practice is fuelled by numerous "local" trips, notably for the Atlas of Natural Regions project (archive-arn.fr) that she is carrying out with Eric Tabuchi.
Eric Tabuchi
Lives and works in Paris;
Eric Tabuchi began his photographic work after studying sociology, in the course of which he discovered the work of August Sanders. In 1999, along with other artists, he founded the Glassbox collective in Paris, with which he participated in numerous exhibitions. From 2007, Eric Tabuchi worked on several books, including Hyper Trophy, Twenty-Six Abandoned Gasoline Stations, and Alphabet Truck, published by Florence Loewy.
He has exhibited at the Palais de Tokyo, Confort Moderne and the Abattoirs. From 2014, he worked on the development of Atlas of Forms, which was published in 2018 by Poursuite. Since 2017, he has dedicated himself to the production of the Atlas of Natural Regions, a project he is carrying out with Nelly Monnier and which he intends to complete in 2024.
Born to a Japanese father and a Danish mother, his work revolves around notions of territory, memory and identity. Architectural typologies constitute the main part of his work. In addition to his photographic practice, Eric Tabuchi produces objects and creates installations.